Lions & Dragon Ritual 

Sunday

 2nd February
The lion dance is a traditional Chinese dance performed on big occasions, such as the Spring Festival (Chinese New Year) for good luck, as it is believed that the lion is an auspicious animal.
Book Your Ticket       Tickets Available January 9th
What Lion Dances Symbolize
In Chinese culture, the lion symbolizes power, wisdom, and superiority. People perform lion dances at Chinese festivals or big occasions to bring good fortune and chase away evil spirits.
The lion dance is one of the most important traditions at Chinese New Year. It is performed to bring prosperity and good luck for the upcoming year. The lion dance is also a way to create a festive atmosphere and bring happiness.
Performed in a lion costume, accompanied by the music of beating drums, clashing cymbals, and resounding gongs, lion dances imitate a lion's various movements or demonstrate martial arts agility, depending on the style.
The dragon dance has been indispensable to Chinese festivals since ancient times. With the spread of Chinese people and culture all over the world, the dragon dance has been brought to every corner of the world where there are overseas Chinese gathered. It has become a symbol of Chinese culture.
What Does A Dragon Symbolize?
Dragon is a symbol of China, and is an important part of Chinese culture. Chinese dragons symbolize wisdom, power and wealth, and they are believed to bring good luck to people.
a Chinese dragon
The Origin of the Chinese Dragon Dance
The origin of the dragon dance can be dated back to the Han Dynasty (206 BC–220 AD). It was then used in a ceremony for worshiping ancestors and praying for rain, and it gradually developed into an entertainment activity.
By the Tang Dynasty (618–907) and the Song Dynasty (960–1279), it had become a common ceremonial activity in festivals like Chinese New Year.
The Dragon Dance Costume
The dragon dance costume used for a dragon dance is made of materials like grass, bamboo, paper, and cloth.
Odd numbers of the dragon's joints are regarded as auspicious, so people often make a 9-jointed dragon, an 11-jointed dragon, a 13-jointed dragon, or even a 29-jointed dragon. Dragons made of more than 15 joints are too heavy to dance, and are mainly used for display, so this kind of dragon puts more weight on decoration and boasts a high degree of both craft and technology.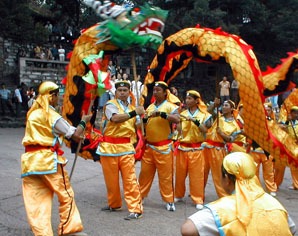 The dragon body is woven in a round shape of thin bamboo strips, segment-by-segment, and covered with a huge red cloth with dragon scales decorating it. The whole dragon is usually up to 30 meters in length — and people hold rods every 1 to 2 meters to raise the dragon segments.